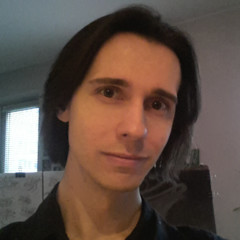 Maciej Lorenc
2D artist, concept artist, animator
Cracow, Poland
Summary
Hello, and thank you for taking a peek. If you are interested in my detailed Resume, be sure to e-mail me.
Born: AD 1984, Cracow.
Graduated painting in Jan Matejko Academy of Fine Arts in Cracow and European Animation Masterclass 2009 organized by Halle University of Media and Arts in Halle (Saale), Germany. Storyteller, drawer and animator. He works with animated films, board and computer games creating.
"I'm driven with a constant need of coming up with new things. I graduated painting, so I could rise up my skill enough not to feel silly reaching for a pencil. I love grotesque, unusual solutions and abstract sense of humor. I love fantasy and science-fiction as a possibility of bringing alive complex and often half-logical worlds. I prefer nonhuman forms – which you can fill with human emotions – since there is enough human forms outside the window."
Skills
3D Animation
Motion Capture
2D Animation
Stop Motion Animation
Concept Art
Illustration
Digital Painting
Oil Painting
Video Editing
Compositing
Particle Effects
Software proficiency